Join expert neuroscientist, Andrew Hires, on the rescheduled scenic loop trail with a slight detour to the cranial shaped, appropriately named Skull Rock! Enjoy 5 miles of shaded trail, waterfalls, and ocean views in Temescal Canyon as we ascend 1,100 feet to a panoramic view of Pacific Palisades. Spend your Sunday morning hiking in the beautiful Topanga State Park and learning about how Dr. Hires activates mice's brains using light.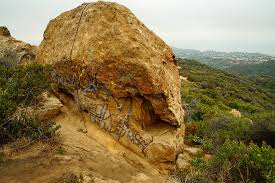 DIFFICULTY: 2.5/5
SCENERY: A "mystical" waterfall, skull shaped rock, ocean views
FUN FACT: On a clear day you can see Catalina Island from Skull Rock!
DEPARTMENT: Biology
FACULTY PAGE: Here
RATE MY PROFESSOR: "I really enjoyed Hires! He was very passionate and knowledgable!."
Dr. Hires is neurobiologist studying neural circuits of touch and sensorimotor integration who was recently awarded the New Innovator Award by the National Institute of Health for his research. His lab is studying the cortical mechanisms behind mice identifying objects with their whiskers. He hopes to better understand these mechanisms to help improve treatments for neurological disorders and pave the way for building prosthetic limbs that would allow amputees to feel again! This guy is the real deal, ya feel?
Outside of the classroom (and lab) Dr. Hires enjoys doing CrossFit, hitting the slopes, and hiking when he can.
She once was described as "Michelle Obama's arms" by a buzzfeed quiz!
Contact Ellie: elore@usc.edu here.
Read Ellie's bio here.
ADDRESS: 15601 Sunset Blvd., Pacific Palisades