TRIP DESCRIPTION: Interested in walking through a lush valley with canyon views and rock pools? Join us for a beautiful hike through Malibu Creek State Park. We'll be hiking Crags Rd to the M * A * S * H * TV show set and then finishing it off with some rock scrambling around a rock pool!
Note: All photos taken by trip lead Gordon Gunn on 1/12/19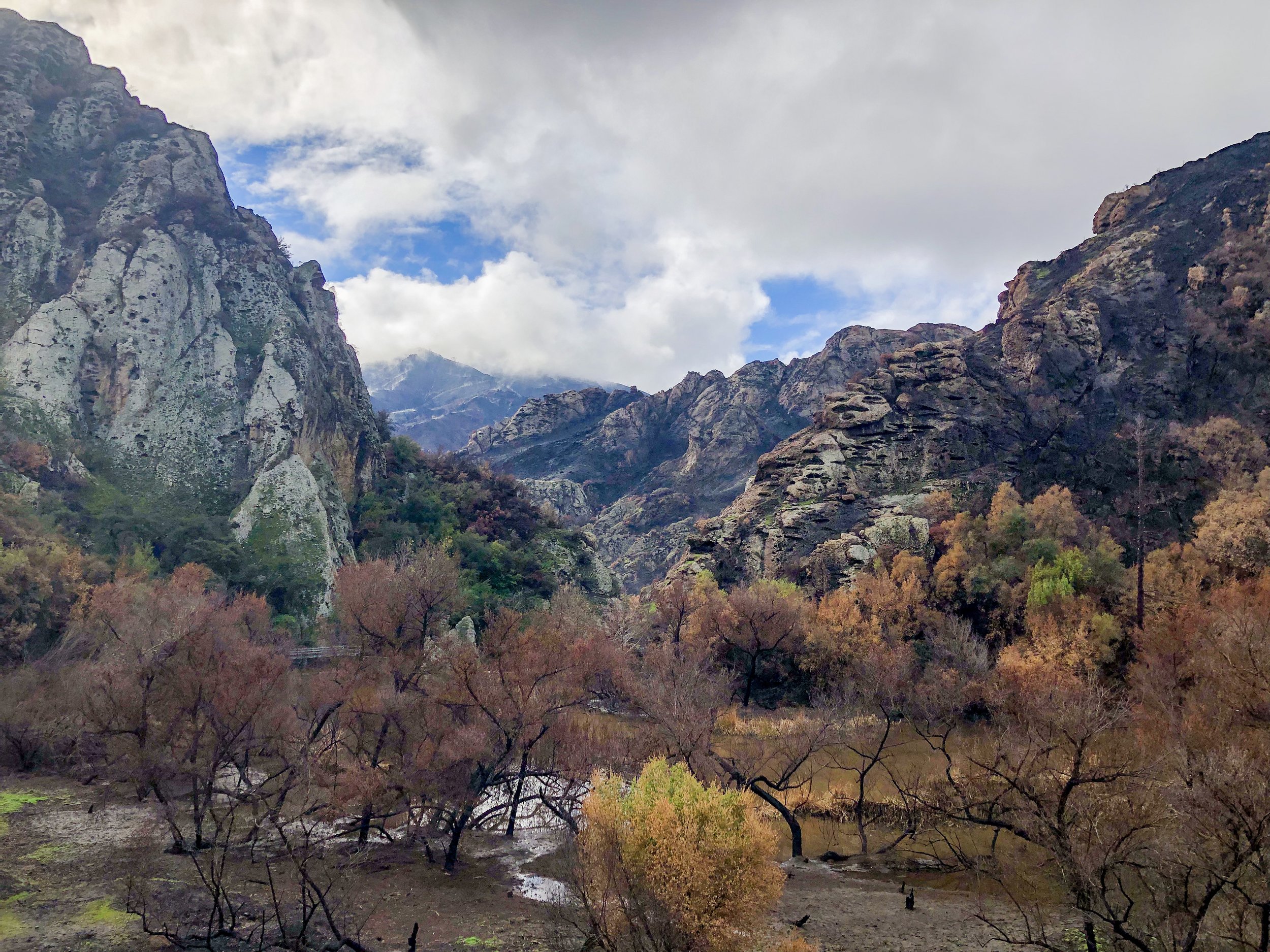 PEAK: Malibu Creek State Park
DIFFICULTY: 2/5
SCENERY: Although Malibu Creek State Park and the surrounding area is still in recovery from the Woolsey fire, the recent rainfall has brought out the greens and yellows of the canyon quite nicely. We'll be doing about 4.5 mi of easy road hiking and taking a few small detours to scramble on some rocks by the state park's many rock pools.
Paul Tokorcheck graduated from Carlsbad High School in 1997 and then migrated to California State University, San Marcos, where he studied Geometry and Group Theory, earning his BS in Mathematics in 2001. After graduating from college, he joined the Peace Corps and spent two years teaching Math and Physics at Tolon Senior Secondary School, a small village school outside of Tamale, Ghana. From 2004 to 2006, he traveled across West Africa with an aid organization, helping to resettle thousands of refugees who were displaced during the civil wars in Liberia and Sierra Leone. In 2012, he finished his doctoral work with the Math Department at UC Santa Cruz, studying a mix of Number Theory, Group Representation Theory, and Lie Theory. He also taught and assisted undergraduate math classes ranging from basic Calculus to upper-division Proofwriting and Number Theory courses. After a 3-year teaching stint at Iowa State University, he ended up back in Southern California and now teaches a variety of mathematics classes at USC.
Read more about Professor Tokorcheck here.
Sophomore, Astronautical engineering
Loves everything with two or four wheels and enjoys talking camera gear.
Contact Gordon: gordongu@usc.edu
Read Gordon's bio here.
ADDRESS: 1925 Las Virgenes Rd, Calabasas, CA 91302