Located along the Palos Verdes coast, the cliffside route provides spectacular, unobstructed views of the ocean below, with side-trails available for descending to the beach.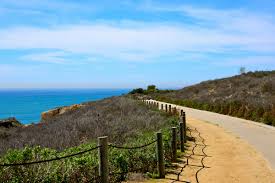 DIFFICULTY: 2/5
SEANERY: There will be plenty of swell ocean views.
FUN FACT: Pirates of the Caribbean was filmed in the area.
DEPARTMENT: Economics
FACULTY PAGE: link
RATE MY PROFESSOR: "Maggie is my favorite professor at USC! She is not only an amazing professor but an awesome person in every way. Extremely caring, helpful, accessible, and really is passionate about economics and teaching. She wants her students to succeed and will help them in any way. 100% recommend -- if you have the option to take her, do it!"
Dr. Switek received both an M.A and Ph.D in Economics from USC after completing her undergraduate degree at Universidad de las Americas - Puebla. She has worked at Cornerstone research and IZA, and is fluent in Spanish and Polish. Her research focuses on life satisfaction and development economics.
ADDRESS: 1 Ocean Trails Dr. Palos Verdes, CA 90275